Learn about childcare through Heptabase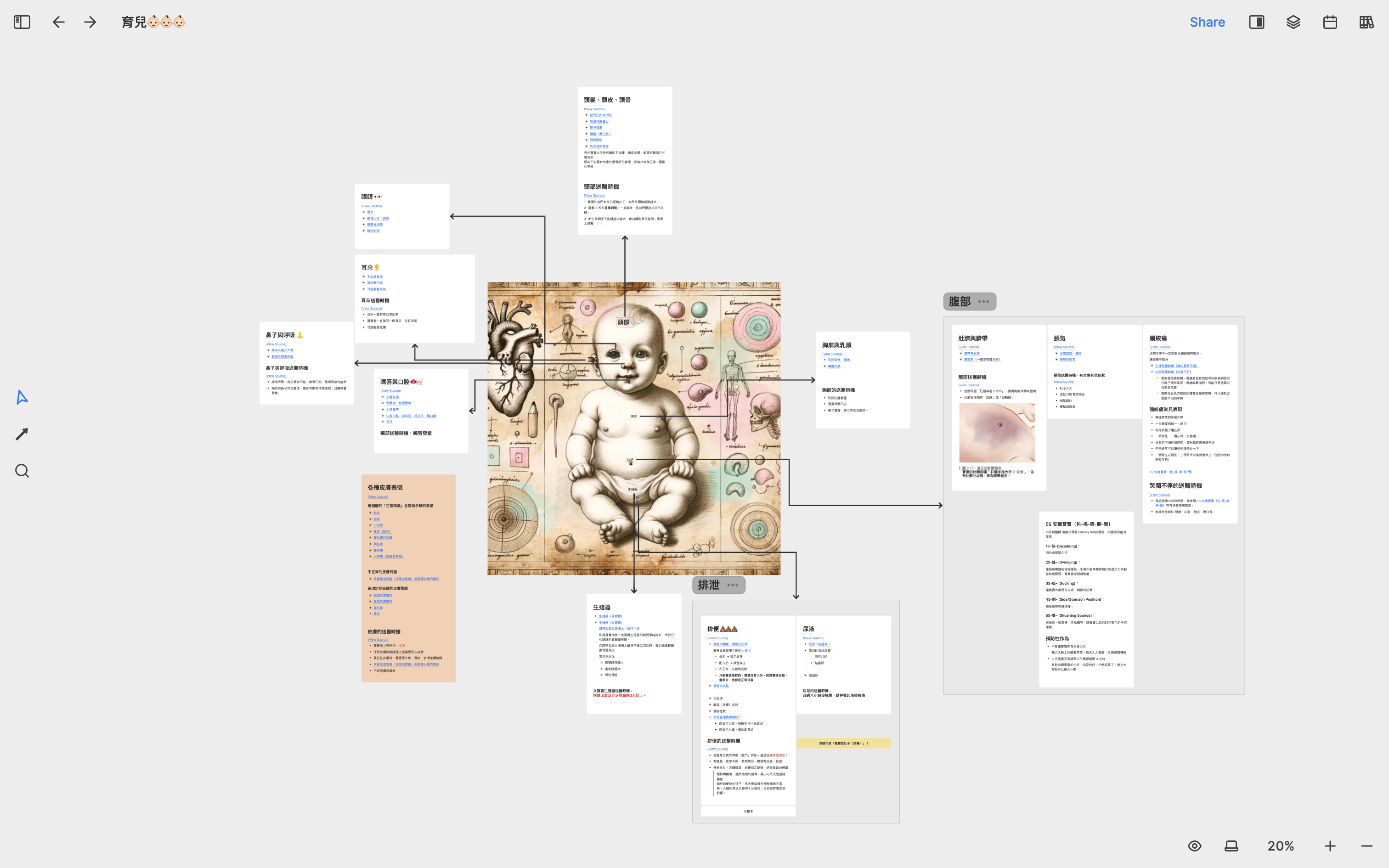 This use case was shared by one of our Discord community member, 蔡阿蔡 (rtsai1202).
蔡阿蔡 used our recently updated image elements to place a full-body photo of a baby on a whiteboard, and added several different cards around it. Each card represented a different organ or subject, such as "eyes", "mouth and oral cavity", and "nose and respiration". Similar types of cards were grouped together in sections. For example, the "excretion" section included two cards: "defecation" and "urine". Each card serves as a table of contents for a specific topic, providing key elements, links, and sometimes additional explanations with images.
What impresses us most is that 蔡阿蔡 has adeptly used our text elements and elbow curve to create very direct and understandable diagram effects. For example, he placed a text element on the baby's nose, where he only put a 👃 emoji. Using this method, he can draw an elbow curve connecting this text element to the "nose" card.
In Heptabase's whiteboard, you have the flexibility to use various types of elements to accomplish your goals. For example, you can use cards across whiteboards. However, if you simply want to add text to the current board, text elements are perfect for you. With the v1.14.0 update, you can now quickly create text elements by holding Cmd/Ctrl and double-clicking.
We believe this use case not only facilitates learning about baby care but also helps inspire better understanding in subjects such as biology, chemistry, geography, and any other subjects that require visual aids. If you want to give it a try, feel free to sign up for Heptabase and start a free seven-day trial!